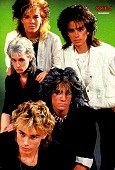 Swedish synth-pop band, formed in Södertälje 1984 by;
Ulf Söderberg (vocals), Rex Gisslén (keyboards), John Sandh (guitar),
Niklas Bergqvist (bass) and Ralph Björklundh (drums).
On their second (and last) album "I Full Frihet",
Gisslén was replaced by Anders Eliasson (keyboards)
and Björklundh was replaced by Mikael Ellgren (drums).
After splitting up, the band members went to different solo projects
-or groups; Most successful was John Sandh's "Sha-Boom".